Many people can suffer from blackheads, otherwise known as open comedones, although it is usually found in adolescents and young adults. Blackhead is a form of acne that occurs when small yellowy black lumps are formed when a blockage develops in the hair follicle of the skin due to bacteria, dirt, dead skin cells and excess oily sebum. We will dig into some of the blackhead removal (home remedies) tips in this topic which will surely help you in removing the blackheads without any side effects unlike clinical treatments.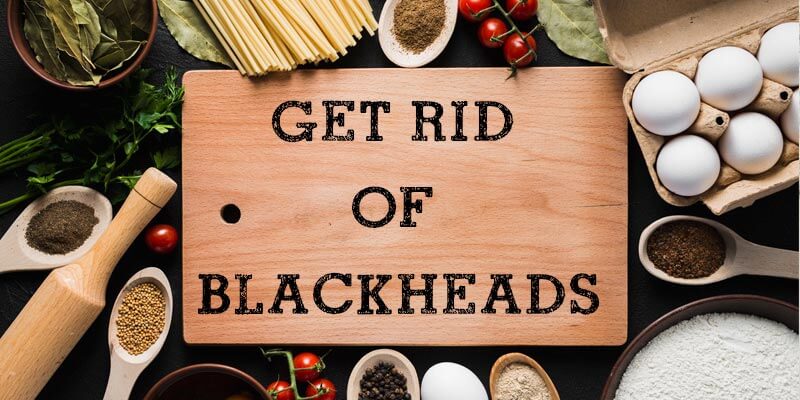 A common misconception is that the black-top of a blackhead is due to dirt, however, it is actually due to being exposed to air. Many factors contribute to the breakout of blackhead just like other forms of acne vulgaris, hormonal changes due to puberty and the menstrual cycle are a large factor. As is genetics and stress, and just like most other forms of acne the incorrect use of skincare products and cosmetics can also play a small part in acne breakout too.
There are some prescription medications that can help relieve the blackhead pimples, however, there are also many different items that are probably lying around the house, that can also help treat blackheads. Therefore, this article will concentrate on those remedies, however, it is important to note that although these may make a noticeable difference but it may not cure the problem altogether.
Baking Soda
The first remedy is Baking soda, this is a very effective treatment for blackheads and other forms of acne also. It can help effectively clean all dirt and debris from the skin. For this remedy, simply mix 2 teaspoons of baking soda with mineral water and mix into a paste. Massage on the skin directly and allow it to dry for a few minutes before rinsing with water. For maximum effects repeat this weekly.
Cinnamon
The next blackhead removal tip for battling blackheads is cinnamon. This is prepared by mixing one teaspoon of cinnamon, one teaspoon of lemon juice and a pinch of turmeric together. Apply it to the face for approximately 15 minutes before rinsing it off. Alternatively, you could mix a teaspoon of cinnamon and honey to make a thick paste and apply to the area leaving it on overnight before rinsing in the morning. This should be done every day for 10 days.
Honey and Lemon
Another blackhead removal that involves using honey is honey and lemon. For this remedy you use 2 tablespoons of lemon juice, ½ a tablespoon of salt, one and a half (1½) tablespoon of yogurt. After mixing his should make a gel-like substance that you can apply to the breakout area directly and rinse off after approximately 10 minutes.
Honey and Egg
A third blackhead removal tip that takes advantage of the healing properties of honey is the use of honey and egg. So, you should take the egg white of one egg and mix it well with honey. Apply directly on to the pimple area for a short time of 5 to 10 minutes before rinsing well.
Milk and Nutmeg As Blackhead Removal
Another remedy is milk and nutmeg. Both of these have properties that help reduce the discomfort and appearance of blackhead pimples rapidly. Use two tablespoons of milk and mix it well it a tablespoon of nutmeg. Once it becomes paste like apply it to the area and leave for approximately 15 minutes and rinse with warm water.
Oatmeal As Blackhead Removal
Oatmeal is a very soothing element for the skin and therefore this is the next blackhead removal tip. Mix one teaspoon of honey and the juice of 4 tomatoes into a preferred amount of oatmeal however it needs to be enough to make a paste, apply it directly to the skin similar to the method you would use for a face scrub, leave it in-situ for 10 minutes and then rinse it. For the best results, you should use it as a regular skin treatment.
Alternatively, you can mix two tablespoons of oatmeal with three tablespoons of plain yogurt and a small amount of lemon juice and olive oil. Apply this to the face and leave for a few minutes before rinsing
Green Tea
Another everyday item that is good for helping relieve blackheads is Green tea. Green tea has become increasingly popular recently and can now be out to use for your skin as well as your health. Mix 1 teaspoon of dried green tea with water to make a paste. Gently scrub the paste over the affected area for a few minutes before rinsing with warm water. This scrub will help unblock any clogged pores as well as cleanse deeply your skin of oils.
So, there you have it some tried and tested household remedies for helping relieve the symptoms of blackhead pimples. Most of you will have some if not all of these items just sitting around your kitchen. So, why not try to utilize some of them. There should be at least one in this list that you will be will be willing to try as admittedly some sound better than others, and some just sound good enough to eat. Read our article THE CYSTIC ACNE DIET and Watch these DIY blackhead removal tips.